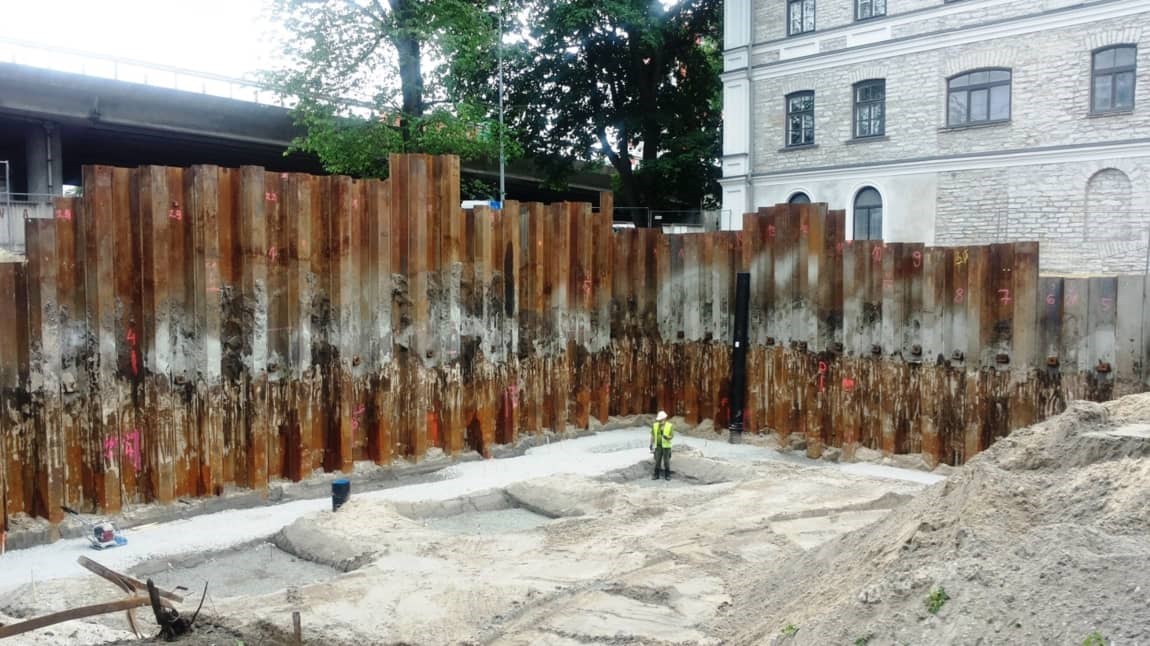 Steel sheet-pile walls
Steel component steel sheet pile walls (sometimes called retaining walls or metal sheet piling) consist of special steel profiles which are rammed, vibrated or pressed into the soil.
Profiles most used are Z and U shaped, but using H profiles is also possible as well as level and composite profiles.
Connectors (e.g. Larssen, Hoesch or ArcellorMittal) are used to link the components with each other to avoid soil and water leakage at the joints creating a unified steel retaining wall. Light profiles are made without water resistant connectors and can only be used for supporting dry trenches.
The largest element producers in Europe in alphabetical order are ArcelorMittal and ThyssenKrupp.
In low trenches (with maximum depth of 4m) unsupported steel element retaining walls can be used that are cantilevered into the soil. In case of deeper trenches the wall necessary length, cross-section or deflection becomes too large and supports bearing horizontal forces must be used. As supports soil anchors or trench interior support systems (supporting pipes, beams etc.) are used.
We install steel profile elements or pipes using resonance free hydraulic vibratory machines or static press-systems.
Vibratory machines with variable eccentric torque which are resonance free when started and stopped permit avoiding vibration frequencies that could be dangerous to nearby buildings and structures. The equipment's vibration frequency can be adjusted by soil type and condition, as well as optimising the amplitude. New generation vibratory machines therefore are suitable for use in urban centres and in the vicinity of buildings. The described equipment is robust, highly functional and well suited for installing steel profiles or pipes into high resistance surfaces.
The static press-system is connected to the mast of a Bauer RTG RG machine. Driving Z or U steel profiles requires different placement of press cylinders and jaw grapples. A package consisting of up to four elements can be installed at the same time.
The technology's advantage is the nearly non-existent vibration level, minimal noise emission as well as the possibility to drive a piling wall's (so called retaining wall) steel elements in the vicinity of existing building walls. The method is especially suitable in fluffy soil where vibration may cause significant compaction later, which could result in sinking of neighbouring buildings and their underground pipelines.
Standards
Pile foundation design is considered in the standards:
EVS-EN 1997-1:2005+NA:2006
"Eurocode 7: Geotechnical design.
Part 1: General Rules" ;
EVS-EN 1997-2:2007+NA: 2008
"Eurocode 7: Geotechnical design.
Part 2 Soil analysis and testing";
Work is executed according to the following standard:
EVS-EN 12063:2001 "Execution of special geotechnical work - Sheet-pile walls".