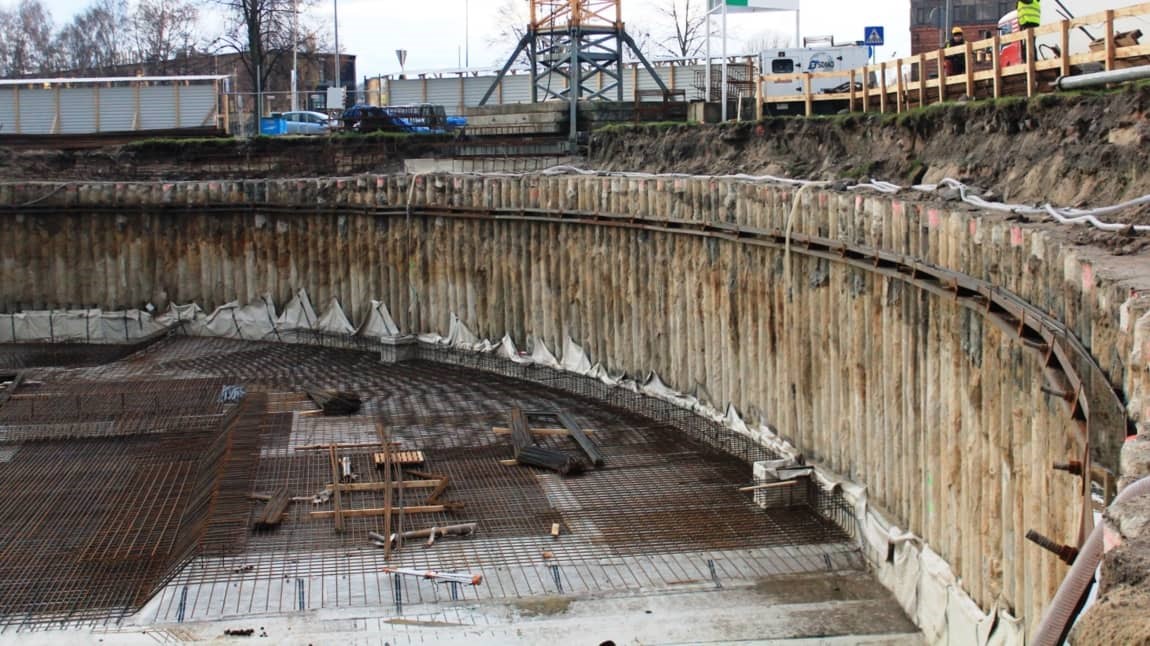 Secant pile wall
A secant pile wall consists of reinforced concrete primary and secondary piles.
First the primary piles are drilled and in between them the secondary piles. The secondary piles are reinforced to make a strong wall.
The long spiral drill and the surrounding casing pipe are driven into the earth at the same time using the double rotary system. The spiral drill rotates in one direction and the casing pipe in the opposite direction. Once the designed drilling depth is reached the spiral drill and casing pipe are rotated upwards. At the same time the pipe base is filled with pumped concrete through a hollow in the spiral drill. The reinforced shell is forced or vibrated into the fresh concrete as soon as the spiral has been completely removed from the borehole.
In comparison to conventional drilled piles there are no problems with cleaning the base. The stability of the borehole walls is ensured. The surface water level does not drop while the secant piles are installed so no damage is caused to neighbouring structures. The method is very efficient for establishing retaining walls in city centres and tight spaces as neighbouring structures are not affected by vibrations.
AS YIT Eesti uses drills and double rotors which permit establishing secant pile walls practically against existing buildings. The property is in maximum use for the underground stories.
Pile foundation design is considered in the standards:
EVS-EN 1997-1:2005+NA:2006
"Eurocode 7: Geotechnical design.
Part 1: General Rules";
EVS-EN 1997-2:2007+NA:2008
"Eurocode 7: Geotechnical design.
Part 2 Soil analysis and testing";
Work is executed according to the following standards
EVS-EN 1536:2010 "Execution of special geotechnical work - bored piles".