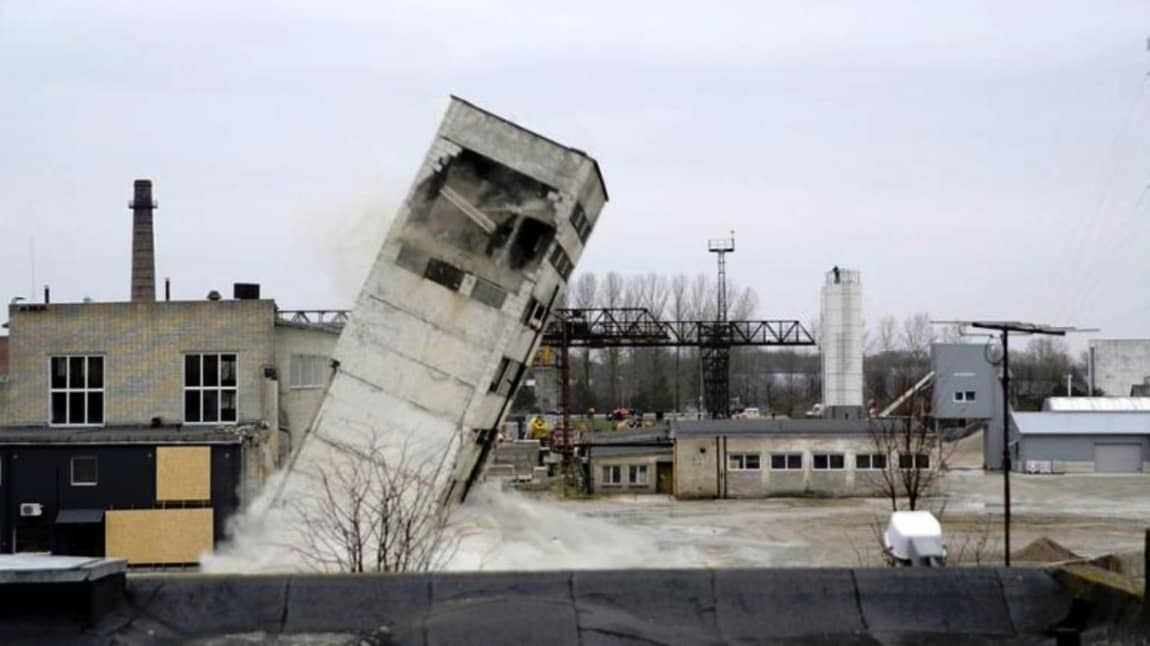 Blasting tasks
In the year 1992 AS YIT Eesti blasting works department (former OÜ Lõhketööd) started operations. In the more than 20 years the company has become one of the largest blasting works companies in Estonia. Over the long time period blasting works have been carried out in different parts of Estonia on land as well as in water.
We own hydraulic drilling rigs Sandvik DP 1100, Tamrock DHA 660 Tamrock Ranger 500, Tamrock Ranger 700 (3 pcs) and Tamrock Scout which can be used for making drill holes 45-127 mm in diameter as required. The drilling rigs permit drilling under different angles - vertically and horizontally into limestone, dolomite and if necessary even granite. The drilling rigs are equipped with dust collecting cyclones which collect the dust into chambers and do not let the wind blow the dust away.
Blasting takes place using the non-electrical, so-called nonel blasting system which permits detonating holes with varying delays. The system not only more evenly distributes material but also produces lower seismic waves. Seismic waves can have undesirable effects on the surrounding environment. We use locally produced Orica explosive substances as well as import explosives from the Czech Republic. Simple explosive substances we make ourselves.
Additionally we use Gardner Denver pneumatic drilling rigs which are operated using large, powerful Ingersoll Rand XL and Tamrock 850 compressors. The compressors provide air 24m3 and 18m3/minute. Such powerful compressors are also rented for other tasks.
We also possess a seismograph to measure the potential seismic blast.
The best known work sites include the Tallinn Airport reconstruction, Tammsaare road extension, Art Museum new building earthworks (blasting 330 000 tons of limestone) as well as the demolition of old dwellings, buildings and chimneys in Tallinn, Paldiski, Aseri, Ahtme, Kuressaare, Rapla, Kohtla-Järve, etc. Explosives have been used to demolish two buildings of the former Meat Processing Plant in Tallinn.
Daily work is performed in many quarries throughout Estonia where drilling and blasting are used to loosen limestone and dolomite.
At the AS Kunda Nordic Cement Kunda Aru quarry we load the blasted rock (approximately 1 500 000 t per year) into hopper wagons and cars. The loading is done using the large 55 ton wheel loader Volvo L350F as well as the 38 ton excavator EC380DL and 27 ton EC25DL.
Additionally we work in the Tallinn Väo Quarry and near Tallinn at the Maardu limestone quarry to loosen limestone through blasting. In Pärnu County at the Anelema quarry and in the Paide County Eivere quarry we loosen dolomite. We also perform drill blasting works at the Koguva quarry in Saaremaa.
Other works include drilling holes for posts and ground loops in hard surfaces.
In addition to all previously mentioned tasks we also design blasting works. Our plans were used for example to blast depth charges in the Bay of Tallinn, on the Tallinn-Helsinki shipping route, on board the sunken destroyer "Malõi Ohotnik".
Special tasks that still should be mentioned include blasting works in water. Blasting tasks have been performed in the Roomassaare Port, Virtsu Port, Paldiski Port and within the Admiralty Basin of the Tallinn Old Port. In the Bay of Tallinn, on the Meriküla route 130 metres of trench were sunk in deep water. In the year 2008 dredging through blasting was executed in Abruka Island's port basin.
In recent years we have annually used at different sites throughout Estonia 700 tons of explosives.
CONTACT:
Blasting Works Department
Andres Leht
Department Manager
Tel. +372 670 9000
Fax: +372 601 4920
E-mail: andres.leht@yit.ee