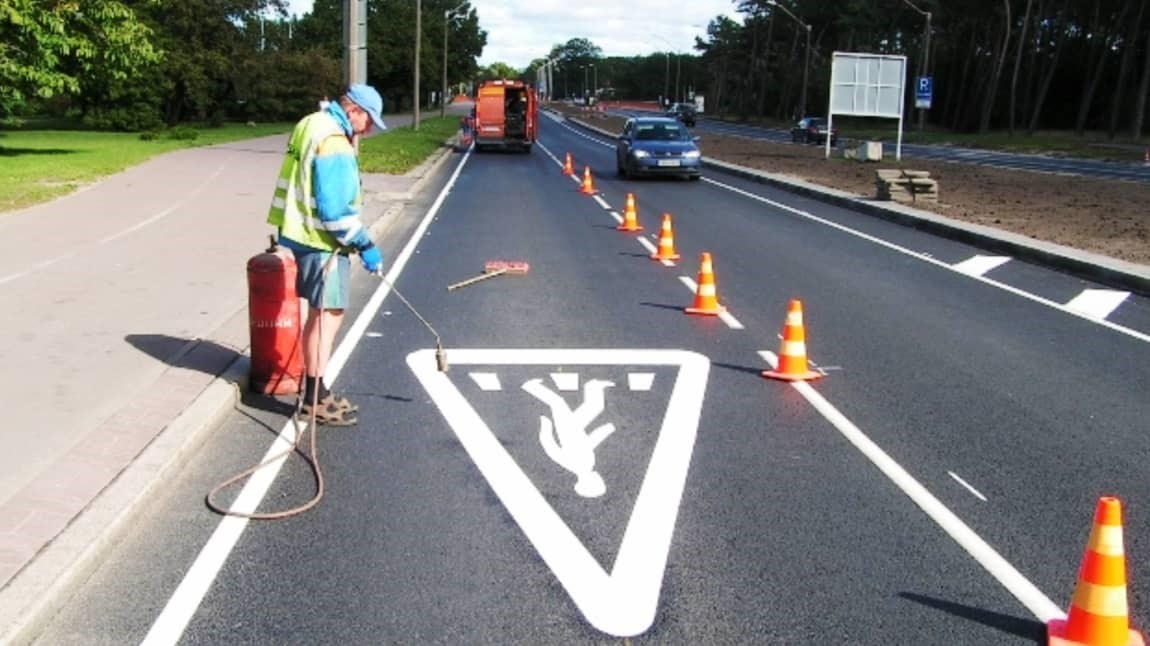 Road Surface Marking
AS YIT Eesti road surface marking department performs road, street, parking lot, square and sport facility marking tasks. Work is done according to client wishes - paint, thermoplastics and spray plastic as well as stickers.
The aim is to perform high-quality marking tasks that satisfy the client and conform to Estonian marking standards as well as requirements established by the Estonian Road Administration.
In cooperation with the client we try to find the optimal solutions for parking lot and road marking.
Since 1993 we have experience in marking tasks when AS Rajar TL started marking works in Estonia. In 2004 AS Rajar TL was merged into AS Talter which today functions with the business name AS YIT Eesti.
Materials
Thermoplastic
Thermoplastic marking is permanent marking which is used on roads and squares with higher than average traffic intensity which results in greater wearing out of the marking by traffic. We recommend using thermoplastics on all new facilities (incl. parking lots) as thermoplastics has the advantage of stability and wear resistance.
Thermoplastics can be machine or manually installed using special installation loaders. AS YIT Eesti uses the marking machine Borum BM SP 400 made in Denmark for installing thermo and spray plastic, which permits marking lines with width of 5 - 50 cm and line interval and length according to programming.
Light reflection is increased by covering thermoplastics with an additional layer of glass beads. The thermoplastic thickness can be chosen by the client - from 2 to 4 mm (on state highways the requirements of the Estonian Road Administration prevail).
Spray plastic
Spray plastic is recommended where paint wears out too fast and thermoplastic is not sensible due to its higher cost.
Spray plastic is also suitable for high traffic intensity roads where high light reflection is required every season and the marking needs to be preserved until the spring. If thermoplastic is laid onto the road surface then spray plastic is installed by spraying.
Road Marking Paint
We recommend using road marking paint on highways with low traffic intensity, parking lots and other areas with old asphalt covering or concrete surfaces. Paint is also suitable for areas where traffic organisation will be changed in the near future.
The advantage of marking with paint is price and speed.
The paint is sprayed onto the road surface using high pressure injectors and sprinkled with glass beads to ensure the light reflection requirements are met.
Contact
Signage Department

Sander Nõmme
Project Manager
Tel. +372 534 18268
E-mail: sander.nomme@yit.ee