Jahu 6
Pre-marketing
Available apartments:

45

Total number of apartments:

45

Number of rooms:

1 - 3

Location of parking lots:

underground parking

Ventilation system:

Apartment-based forced ventilation with heat recovery

Heating system:

Floor water heating (central heating)

More details
Phase II in numbers
Phase II


There are three Jahu buildings in total, each with 8-15 flats.


The Jahu flats have 1-3 rooms and their sizes range from 31-64 m2. The top floor flats have a special design, with some of them stretching over two floors.


The car park is located under the buildings and is comfortably heated.



The landscaped grounds are fenced, creating a private and secure area for the young and old.
Apartments in Jahu 6
Apartments
No results.
This search returned no results.
Technical description
Technical description
Construction
To the greatest extent strip foundations, with partial pile foundations, are used. The load bearing exterior walls are built using concrete blocks which are insulated with PIR insulation boards. The walls between flats are made from concrete blocks, with shaft walls made from light blocks. The interior flat walls are built using gypsum plasterboard on a metal frame. The internal ceilings will be made of prefabricated hollow core elements covered by insulation layers and sealed with a poured concrete levelling material. The buildings will have grey rolling plate gabled roofs. The facades will be finished with vertical wood boarding.
Windows, balconies, boundaries
The flats have triple glazed, German type, inward opening assembly units and white wooden window sills. The balcony floors are made from concrete elements. The balcony boundaries are made using a metal frame covered with wooden strips that complement the wooden boarding of the facade. The first floor has wooden terraces. The Väike-Patarei building 1/4 has two 4-bedroom flats with roof terraces.
Siseviimistluspaketid
Siseviimistluspaketid
Design solution "NEW YORK"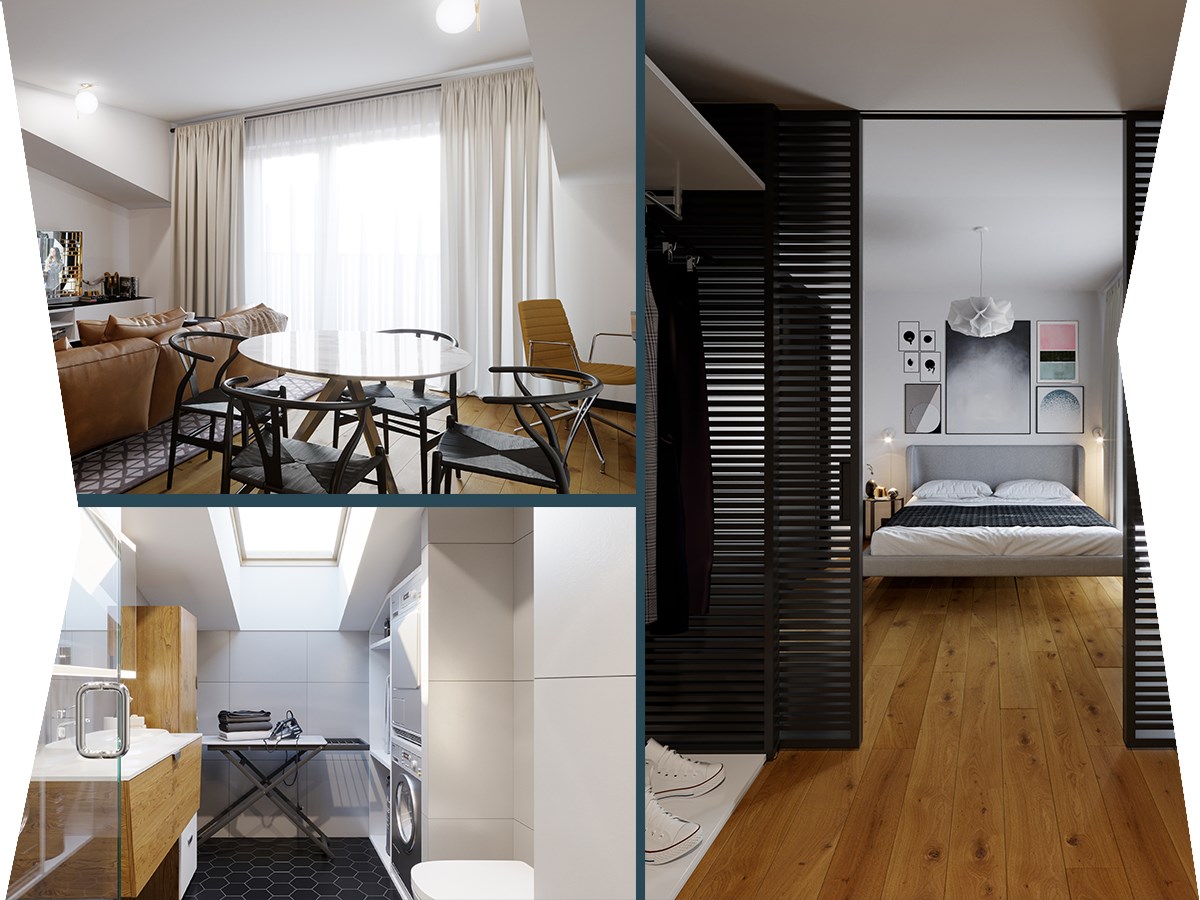 Wonderful accents are provided by bold black and dark tones. The New York package is inspired by 19th century New York City architecture and design, elements of which we have adjusted according to our vision.
The living and bedroom floors are covered with veneer parquet Par-ky Classic 20 Ivory Oak. The ceramic tiles for the hall are Nowa Gala Monotec, with a choice of three tones. The bathroom uses Bien Twist ceramic tiles without a restriction in colours.

Design solution "HELSINKI"
Helsinki paketis domineerivad heledad toonid. Arvesse võttes põhjamaade pikki ja pimedaid talvi ning sellest tulenevat valgusvajadust, loome heledate toonidega valgemad eluruumid. Samas moodustab see justkui puhta lõuendi, mida saab ideaalselt täiendada erinevate värvide ja detailidega vastavalt kliendi soovile.
Elu- ja magamistoa põrandaid katab spoonparkett Par-ky Classic 20 Ivory Oak. Keraamiliste plaatide valikus Nowa Gala Monotec ja Bien Twist erinevad toonid.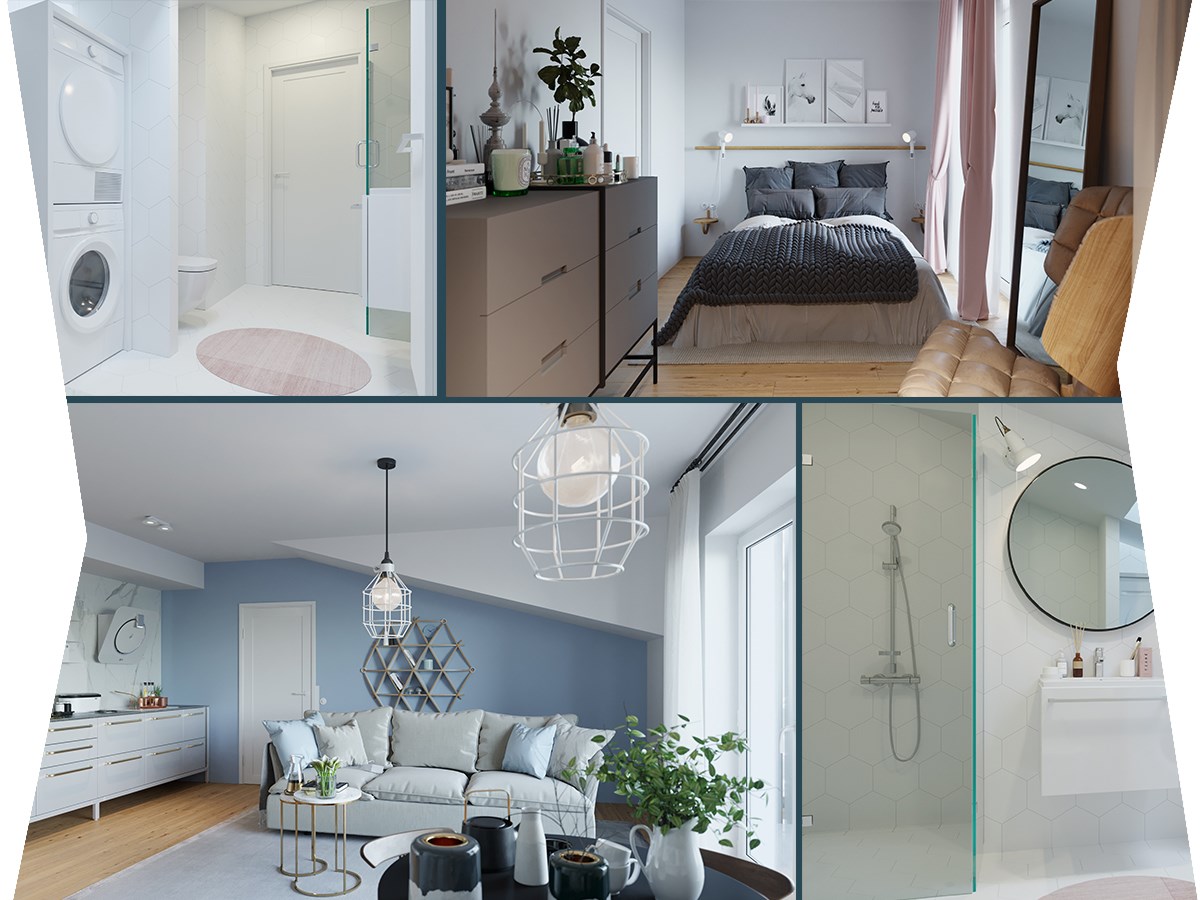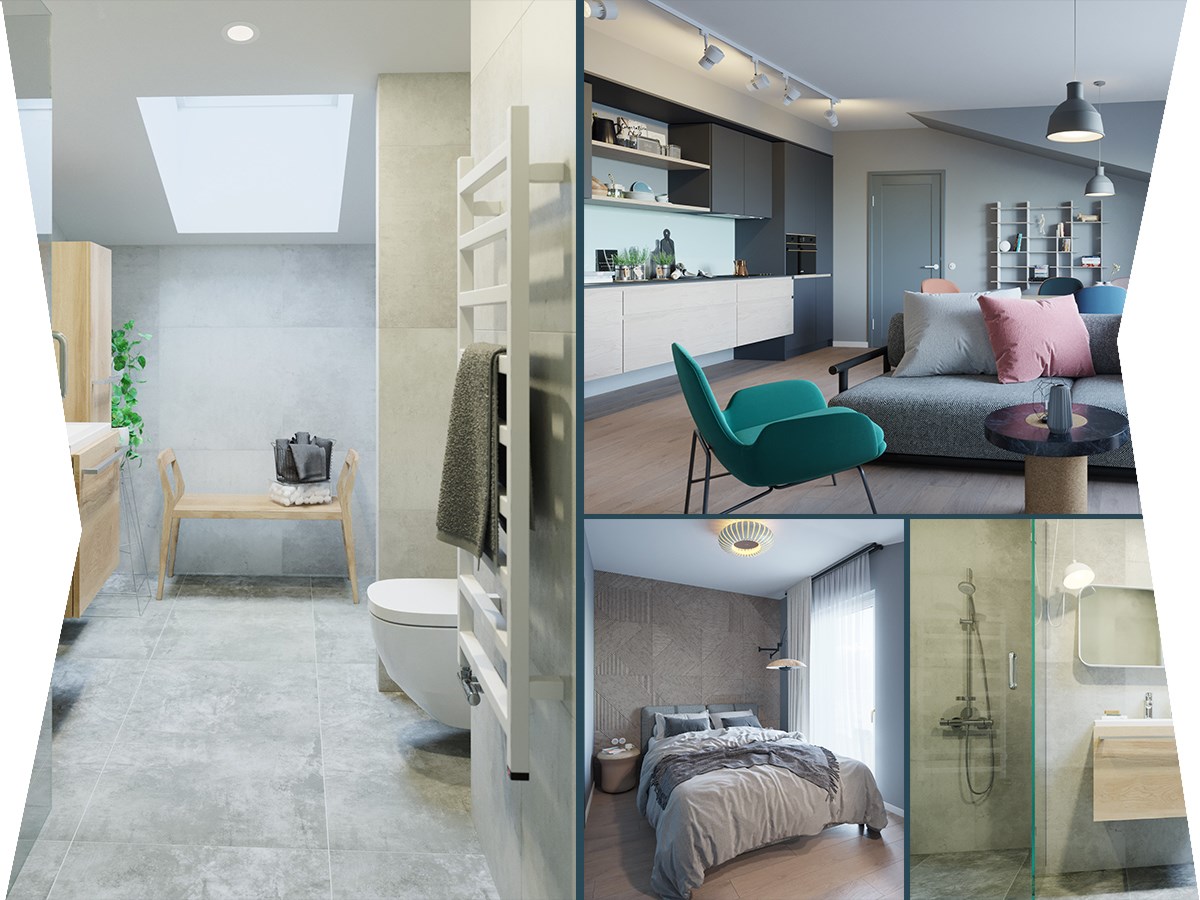 The Oslo package, in addition to white, uses pleasant grey tones, and ceramic tile choices include natural stone and concrete imitations which create a stylish and beautiful result.
The living and bedroom floors are covered with veneer parquet Par-ky Classic 20 Desert Oak. The choice of ceramic tiles includes different tones of Scratch and Bien Twist.

We use the same sanitary
equipment in all flats
The bathrooms are intended to be equipped with a shower cabin with a swinging door FORM or a bathtub Balteco Forma 17. In the toilet room there is a wall mounted Laufen WC with softclose lid. The choice of wash basins includes Laufen PRO S and Forma 60 single drawer wash basin cabinet.
Other sanitary equipment includes a Hansgrohe shower head and slider, wash basin tap as well as thermostatic shower and bath mixing taps.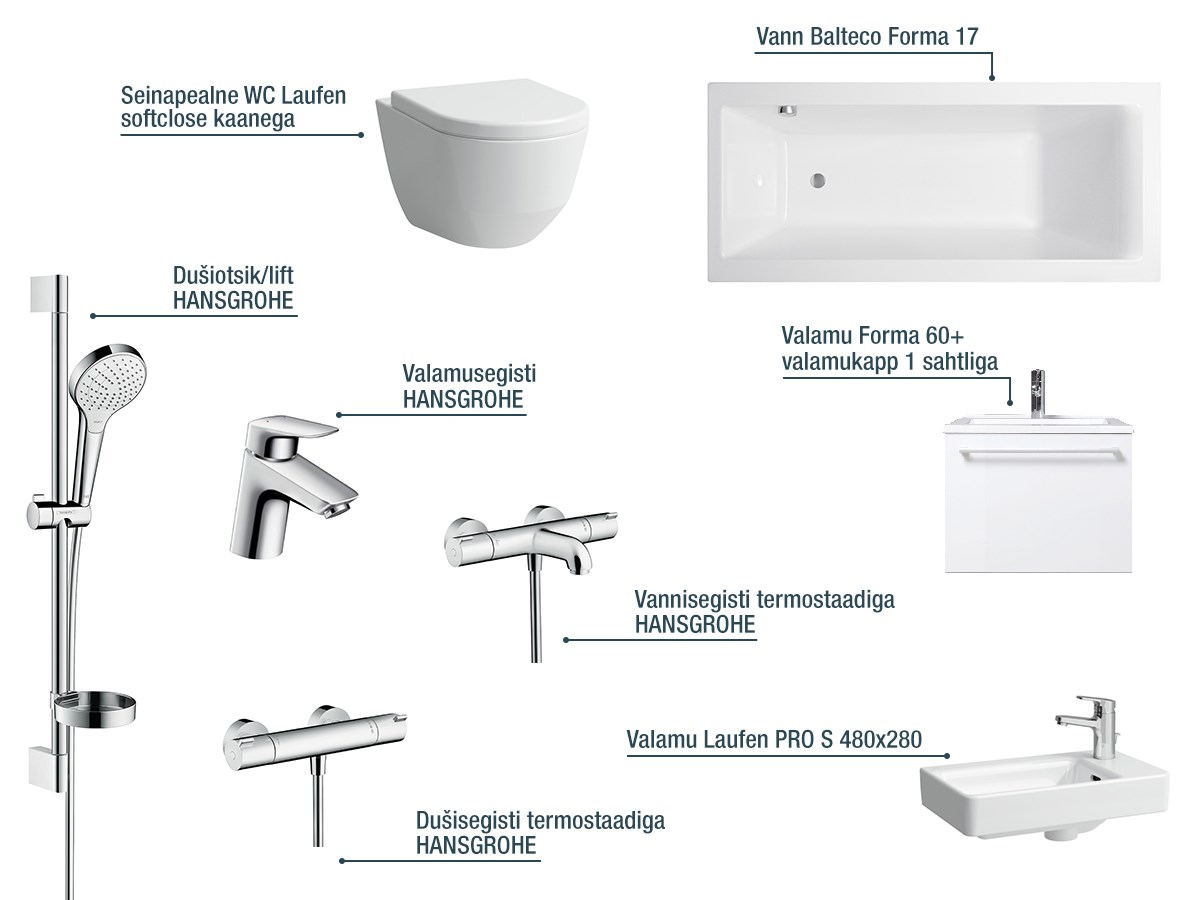 Design solution
"HELSINKI"
Design solution
"NEW YORK"
Map & Services
Show services
Show services
Sales specialists
Kairiin Kingumets
Sales specialist
Kristina Sõmerik
Sales specialist
Eva-Liisa Tamm
Sales specialist
Helina Toome
Sales specialist
Margit Kujala
Sales specialist for Finnish customer
Toomas Luht
Sales specialist