Press release: YIT Construction held a topping-out ceremony at the apartment building on Mäepealse St. in Tallinn
Yesterday, a topping-out ceremony was held at the apartment building at Mäepealse 13/2, on the border between the Mustamägi and Nõmme districts, and the 8-storey building will be completed in the autumn of this year.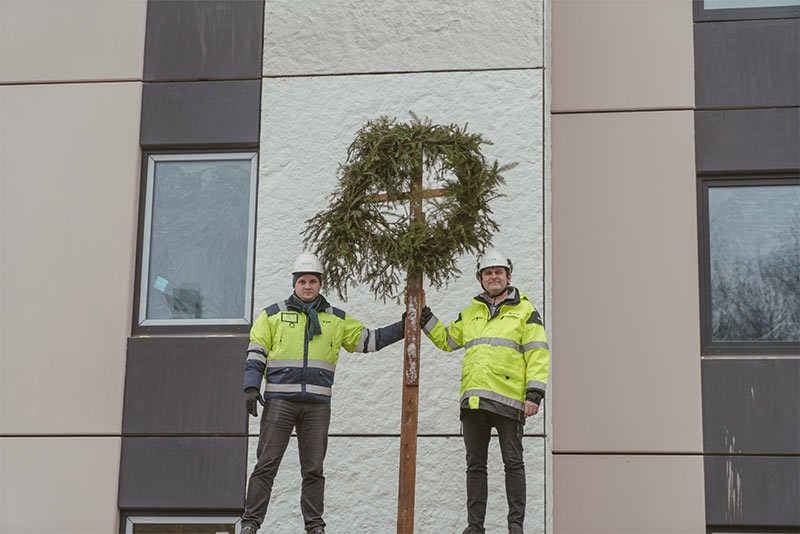 The topping-out wreath was brought down from the top of the building by Kristjan Lood, the Project Manager at YIT Construction, who said that construction is progressing according to plan. The purpose of the ceremony was to host the builders, and thereby, according to folk tradition, to ensure good luck for the building and create good relations with the house spirit.
The topping-out ceremony is of symbolic meaning for the entire construction process, since the building has now achieved its final structural height. "If we compare a building to a living organism, then the topping-out ceremony is held when all the bones – the frame that holds everything together – have been put in place. Thereafter, the nervous system, blood supply and respiratory tract are developed, which, in a building, corresponds to the electrical systems, water supply and ventilation," Kristjan Lood, the Project Manager at YIT Construction explained the analogy.
The building at Mäepealse 13/2 will be the first of six new apartment buildings scheduled to be developed on Mustamägi Hill. "The demand for apartments is great thanks to an efficient design and excellent location in the most popular area of Mustamägi close to the health trails and woods of Nõmme," said Margus Põim, CEO of YIT Construction.
The buildings, which were designed by architect Janno Põldme, have eight above-ground storeys and one underground. There are two building (13/1 and 13/2) on each lot, which are connected by an underground garage. A secure children's playground and rest area is located in the yard.
Unusual multi-level storeys have been designed for the building – three apartments are located at one level, and the other two are 1.5 metres higher – thereby ensuring more privacy for the residents. The floor plans correspond to a modern Nordic lifestyle. In the functional and compact homes, the bedrooms are separated from the kitchens and living rooms. The largest apartments at Mäepealse 13/2 are 75.3 m2 in size and half the homes have already been sold. Most of the apartments have balconies, and the storage units and access to the parking garage are on the basement level. Construction on the apartment building at Mäepealse 13/1 will already commence in the spring.
YIT Ehitus AS is one of Estonia's leading construction companies, which is owned by the Finnish YIT Group that provides construction services. The YIT Group is the leader of the construction sector creating sustainable urban environments, which builds residential and commercial buildings, infrastructure and entire neighbourhoods. YIT focuses on providing a first-class client experience and high quality and ensuring the continual growth of its diverse competences. YIT operates in Finland, Russia, the Baltics, the Czech Republic, Slovakia and Poland. The goal of the company is to always be one step ahead, while also caring for its clients, partners and employees. YIT has more than 5,300 employees in eight countries. In 2016, its sales revenues totalled almost €1.8 billion. The company's shares are listed on the Nasdaq OMX Helsinki stock exchange. www.yitgroup.com
For more information:
Kadi Aljas
Marketing Specialist, YIT Construction
6652100
kadi.aljas@yit.ee